Take A Break From Your Loan Payment!
There are times when you may need a little extra cash due to unexpected financial obligations. Our Skip-A-Pay program lets members skip one monthly payment on eligible loan(s) each calendar to free up some cash for times when your budget is a little tight.
To skip your payment(s) the following criteria needs to be met:
You must be in good standing with the credit union.
The loan must not be a credit card, real estate loan, line of credit, CashPlease loan, First Cash Overdraft Line of Credit, holiday loan, vacation loan, "Whatever" loan, workout loan or government shutdown loan.
The loan must not have force placed insurance.
The next payment due date on the loan cannot be more than 29 days past due.
The loan must have at least 6 months of payment history.
A skip payment can be performed once in a 12-month period on a given loan.
There is a max of 6 skip payments per the life of the loan.
Loan cannot have any prior extensions processed.
Please note:
There is a fee of $20 for each skip payment request.
For weekly, bi-weekly, or semi-monthly payments, the loan will be advanced 4 weeks.
If your payment is set up as an electronic payment from another Financial Institution, it is your responsibility to cancel the upcoming payments with your other Financial Institution.
Skip-A-Pay when it's right for you!
Just login to Online Banking or through the Mobile App to see if you have eligible loans to skip. If you have a loan that is eligible for Skip-A-Pay you will see the option available within your Online & Mobile Banking as shown below.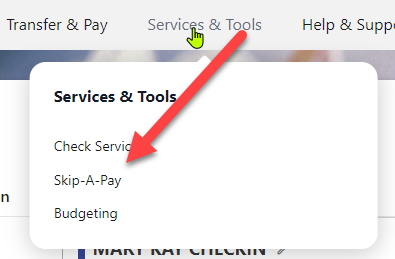 If you do not have any loans available for Skip-A-Pay you will see the below.