Tram Pass Discount
Tram Days/Times of operation: Wednesday thru Monday, 9am till 8pm (last tram up).
• The tram will continue to be closed on Tuesdays.
• TEN 3 will keep their current schedule of Thursday thru Monday.
Get a discounted rate on 4 adult tickets. Only one discount pass is issued per day.
Please call (505)766-5600 or 1(800)342-8298 for the discount rate and to make reservations.
Visit sandiapeak.com for furthur updates, details and special hours of operation.
---
Love My CU NEW Member Benefits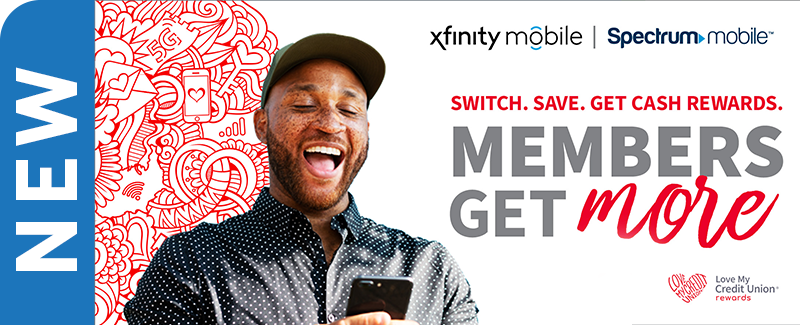 NEW DISCOUNTS! Switch, save, and get a cash reward from Love My Credit Union® Rewards for each new mobile line activated with Xfinity or Spectrum.Learn More.

FFCU Members Can Save 40% on a NEW 1-Year Membership
First Financial Credit Union members can get what they need to make staying home easier with brands they trust and savings they can count on with a new membership at Sam's Club. A Sam's Club membership more than pays for itself with exclusive savings on the things you need, the things you love, and all sorts of unexpected things. Plus, credit union members who do not currently have a Sam's Club membership can now save 40% on a 1-year membership at Sam's Club so there is no better time to join. Full Details Here.

Love My Credit Union Rewards has teamed up with SimpliSafe to provide an amazing deal for credit union members on exceptional home security. SimpliSafe offers reliable whole home protection, with 24/7 professional monitoring and police dispatch that's up to 3.5x faster. All at fair prices and no contracts. Credit union members get a free home security camera plus 2 free months of 24/7 professional monitoring ($150 value) with the purchase of a new SimpliSafe security system.
SimpliSafe was named CNET Editors' Choice and "the best home security system" by Wirecutter. Over 3 million people already rely on SimpliSafe to keep them safe. Now's a great opportunity for credit union members to join. Full Details Here.

New TracFone Wireless Program
Last year, Americans spent more than $284 billion on wireless products and services. A third of them were credit union members and most of them spent more on wireless service than they needed to. Members are overspending on an essential service in the midst of unprecedented economic challenges.Love My Credit Union Rewards has partnered with Tracfone to provide credit union members a savings of up to 33%-63% on their wireless plan.
Tracfone is the fourth largest wireless provider in the US and the largest US wireless provider for what is known as no contract wireless service. What's different about no contract? The no contract market provides exponentially more savings opportunities for members without a loss in quality of service. Tracfone brands use Verizon, AT&T and T-Mobile networks so members get the same great high-speed coverage, including 5G speeds where available.
Members can keep the exact same wireless service on the exact same cellular networks and you can even keep the exact same mobile phones and pay a fraction of what they pay today.
TracFone Member Benefits
NO CONTRACTS OR MYSTERY FEES
We offer a variety of wireless plans to meet your individual needs with no contracts, credit checks or mystery fees.
TOP NETWORKS
Coverage on America's largest and most dependable networks.
TOP PHONES
Whether you're an Android person or an iPhone fanatic, we have the latest phones for every budget.
KEEP YOUR OWN PHONE
Love the phone you have? Keep the phone, number and network you love with our easy-to-install SIM Kits.
Unlock the Benefits of Calm
Find Calm in the chaos with access to hundreds of guided meditations,sleep stories, breathing exercises and relaxing music on Calm, the #1 app for Meditation and Sleep.
Join the millions experiencing better sleep, lower stress & less anxiety.
• Learn how to increase focus, inspiration & productivity.
• From 3 to 25 minutes, choose the length of each session to fit your schedule.
Calm provides experiences for resilience and mental fitness. The programs are designed to support feelings of creativity, calm, resilience, happiness and success. What's even better, credit union members can enjoy Calm for only $29.99, which is a savings of $40 off the annual subscription cost of $69.99. Full Details Here.